Thank You-Donate To Channel-

https://patreon.com/cultureshocktv

Homeless Fund:

http://bit.ly/CSTVHelpHomelessChildren

Make Money Online:

http://bit.ly/MakeMoneyOnlineEveryday1

When former presidential nominee Hillary Clinton had a fainting spell on Sept. 11, 2016, rumors were swiftly passed around regarding the candidate's health that questioned her physical ability to perform presidential duties if elected. Now, in a new book, reporters have exposed just why Clinton fainted.

"

Shattered: Inside Hillary Clinton's Doomed Campaign

," written by reporters Jonathan Allen and Amie Parnes, detailed many reasons why Hillary Clinton's 2016 bid for presidency was doomed from the start. One of those reasons was Clinton's loyalty to the wrong people.

Huma Abedin, Clinton's closest adviser, could be considered one of the major downfalls of Clinton's campaign. Abedin was already embroiled in her own

controversy

with her estranged husband, Anthony Wiener, yet Clinton kept her on the campaign.

The

U.K. Independent

reported on the compassion Clinton felt for Abedin and how ultimately this was a huge blow to Clinton's campaign.

"Clinton agonized over removing Abedin from the campaign's center, despite the absolute necessity of doing so, due to Abedin's unrivaled loyalty to her, and an 'almost maternal compassion' Clinton felt for Abedin," the outlet reported.

However, it was this closeness that caused Abedin to be the only one who knew that

Clinton's health

had taken a turn for the worse. Abedin knew but kept the doctor's diagnosis a secret from the rest of the campaign advisers, which led to the infamous fainting spell.

Worst of all, it could have been avoided, but only if Abedin wasn't worrying so much about being the one "closest" to Clinton and actually cared about Clinton winning the presidency.

The

Independent Journal Review

highlighted passages from Thomas Goulding's review of "Shattered," including this gem: "When Hillary was diagnosed with pneumonia by her doctor, the closest adviser to her, Huma Abedin, kept this information guarded, with most of the rest of her team in the dark about a significant change in the candidate's health.

"As a result no one stopped Hillary from intense debate preparation and then attendance of a Sept. 11 memorial service, which made

Clinton stagger and faint

on the way to her car, giving (Republican nominee Donald) Trump political meat to question her fitness for office. The campaign team misled the press in their initial response because Abedin hadn't properly briefed their spokespeople, and not for the first time.

"Like with the Clinton campaign's first response to the e-mail scandal, this only further cemented the impression of the Clintonworld misleading the public and hiding the truth," Goulding concluded.
Powered by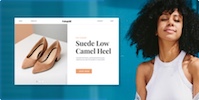 Create your own unique website with customizable templates.